Artist Spotlight: Miley Cyrus
It's been ten years since the release of Miley's game-changing fourth record Bangerz which brought with it seismic singles, infamous music videos, and a headline-making live performance. In celebration, this month's Artist Spotlight lands on Miley Cyrus! 
Miley grew up in Tennessee. Music was all around her growing up. In her family's playroom there was a jukebox where her dad would spin the likes of Elvis Presely, Joan Jett and Etta James. Miley has often described herself as a die hard Britney Spears fan. 
At the age of thirteen she auditioned for the Disney television series Hannah Montana. Cast in the lead role, it rocketed her to fame and she began releasing music under the character's name. Miley launched her solo career in tandem with the series' soundtrack releases. Her second record Breakout in 2008 was her first to stand alone. 

Following the release of her third album Can't Be Tamed in 2010, Miley took a break from music and spent time focusing on her acting. She also began to share her Backyard Sessions on YouTube, covering the likes of Eartha Kitt and Melanie. However, it was her performance of godmother Dolly's Jolene that caught the ear of Pharrell Williams. The two met and Pharrell became a key player in the evolution and production of Bangerz. 
Released in September 2013, Bangerz marked a shift in Miley's sound. She's since explained it not as a transition, but as a movement. Returning with an RnB influence, Miley has described the record as "dirty south hip-hop". 
Across Bangerz, Miley worked with producers including Pharrell, Mike Will Made It, Dr Luke and Rock City. During the writing process she moved to Philadelphia for three months, a change she says impacted the depth of her songwriting. Living in a city with no distractions where she was rarely recognised allowed Miley to live something of a normal life.  
It also inspired her change of image. Encouraged by Pharrell, she travelled to New York and had her hair chopped into the notorious blonde pixie cut. "I just felt like I had this whole new attitude, I felt like I could finally be the bad bitch I really am," she said afterwards. The iconic look lasted for the most of the decade and it was only this past week that she shocked fans with a switch back to brunette! 
Bangerz became an influential moment in pop culture. First single We Can't Stop with its instant and hedonistic electro-pop chorus hit number one in the UK and went on to be certified five times platinum in the United States, while follow up power ballad Wrecking Ball wreaked havoc, smashing the number one spot on the Billboard Hot 100. 
The album features an array of big name guests, including Miley's hero Britney Spears on title-track SMS (Bangerz). Nelly features on 4×4, Future guests on My Darlin and on Love Money Party, Miley is joined by Big Sean. One of the album's standouts was FU, a collaboration with French Montana that has its roots in dubstep.
Miley was heavily involved across the record's imagery. The photo she chose for the cover has her posed in Vintage YSL, celebrating her love of finding key vintage items. In the video for We Can't Stop, Miley brought together her friends for a spontaneous and very real party. She's since called it, "The best thing I've done in my career… People are expecting a shocking video, but it's doing it in a way that isn't predictable." The video set the record on Vevo for most views within the first twenty-four hours. 
But it didn't take long for Miley to demolish her own records with the premiere of the video for Wrecking Ball which amassed over nineteen million views in its first day. The clip was a peak moment in pop culture, inspiring countless memes and causing controversy around her new provocative approach. 
That controversy continued when Miley performed at the 2013 VMAs. Emerging from a giant teddy bear, dressed as a teddy bear and surrounded by twerking teddy bears, she described it as "a strategic hot mess". Following her performance, which included a duet with Robin Thicke, Miley was accused of degrading the foam finger by its creator.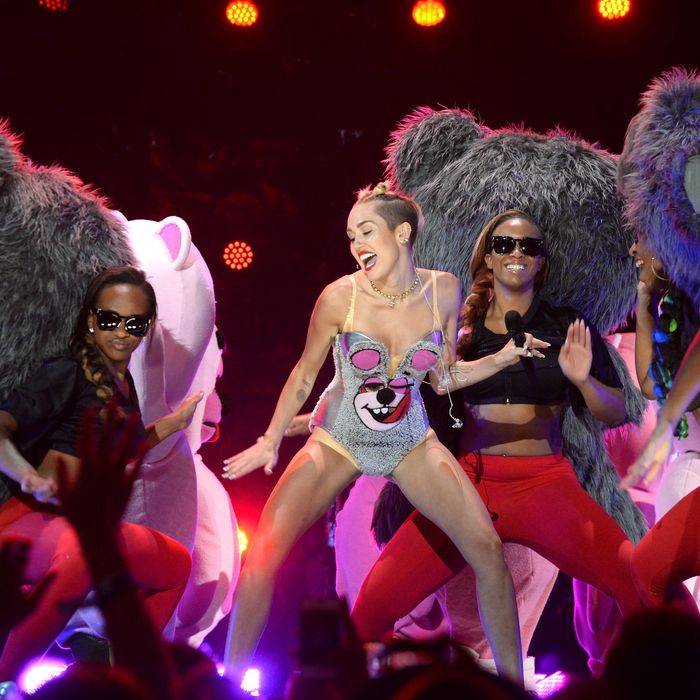 In the MTV documentary Miley: The Movement, she says, "I'm just like a freak. I don't think it's that I'm smarter than anyone else, it's not that I think you don't get it, it's just like, this is who I am and if I'm gonna perform, I want things around me that I like."
Bangerz hit number one on the UK and US album charts as well as several other countries around the globe. It has sold over seven million copies worldwide and been certified three times platinum in America. It was nominated for Best Pop Vocal Album at the 2015 Grammys. 
Since its release, Miley has put out four more albums including this year's Endless Summer Vacation. She has dueted with the likes of Dolly Parton and Dua Lipa and starred in a very meta version of Black Mirror. Looking back at Bangerz, she said, "The music was driving it, but all those things from that era, especially with Bangerz, the pop-culture moments almost eclipse the music itself."